At-Home Gut Health Tests
How Testing Works
1. Request your test kit:
We'll deliver your parasite test kit right to your doorstep. It includes a pre-paid shipping labels to send your samples back to the lab.
2. Collect your sample:
After you collect your samples, attach the return label, and ship it to the lab. Our Ph.D. parasitologists will start analyzing your samples.
3. Recieve your results in about 10 days:
About a week after the lab receives your samples, Evan will email you your results. Then you have an optional phone call to discuss your results, and options.
4. If you have parasites, we'll help you kill them:
Together, you and Evan will come up with a plan to get rid of your parasites. Evan will help you find a doctor, or a skilled health practitioner.
Your plan for fighting parasites will include:
parasite cleansing strategies
diet modification
lifestyle modifications
plan to avoid re-infection
What People Say About Our Parasite Testing:
Easy, Fast, Thorough, Friendly and Personalized Service

Tara C. – 1/19/2022

verified buyer
I would rate the at home parasite testing company Parasites.org, a 5 out of 5 stars. I would go higher if I could and would definitely recommend their services to friends. As someone who does not like big corporations or even going to the Dr., I was shocked to experience easy, fast, thorough, friendly, and personalized service. Ordering the kit, providing a sample, and sending it back was very simple and descrete and was not complicating or time consuming like I had expected. Every question I emailed was quickly responded to and I received the results with a couple of days. The results were explained in detail as well as personalized plan informing me of the best course of action to take that would help to remedy my situation. The plan was way more than I expected to get from a lab giving you test results because most places just tell you to go to the Dr and that's the extent of their advice. Parasites.org sets the bar on how a professional health service should conduct their business.

Would recommend to a friend
Evan Was Very Helpful

Andrea S. – 12/31/2022

verified buyer
The kit arrived very quickly with easy instructions and a return label that was easy to return shipping. My results came in the amount of time the website had informed me and I received a phone call from Evan with my results along with an email of my results to show my doctor. Evan was very helpful and answered all my questions and was very informative about my test results. He has answered all my emails and questions I have about my test. I'm very impressed with this service and would recommend this website to anyone trying to get testing done. I would rate this a 5 Star service.

Would recommend to a friend
Great Personal Touch and Care

Kim W. – 1/4/2022

verified buyer
Great personal touch and care. I appreciate customer service answering questions about my test.

Would recommend to a friend
Easy to Do

Sue S. – 1/6/2022

verified buyer
Thoughts on the experience: It was easy to do. I eliminated dark foods for one week to make it easier to identify the organisms as the directions suggested. Then I did four samples over four days during the full moon when parasites are said to reproduce and be more active. The directions and supplies were sufficient for the task. I had the results one week later! Evan thoroughly explained the findings and answered all my questions. And, because Evan provides this service I was able to share my results with my doctor and have a stool bacterial culture test ordered. I was also able to contact a doctor in my area with 40 years working with Immunology-Infectious Diseases and shared the results with him. I will hear from him next week once he has the results from the bacteria test. Thank you, Evan, for seeing a need and filling it! I greatly appreciate you, your knowledge and your commitment to helping people become healthy! Sincerely, Sue S.

Would recommend to a friend
Learning more about what was going on in my body

Matt G. – 1/28/2022

verified buyer
Really like the fact that I could discuss my results with Evan and he could explain the tests in detail. In AL I could not even get a stool test so having Evan connect the dots was a big asset for me to learn more about what was going on in my body.

Would recommend to a friend
Recommended Articles:

There are 6 common parasite tests. But which test is typically best? In this article we compare these 6 tests:
stool microscopy test
PCR DNA test
blood smear test
saliva test
blood antigen test
endoscopy/colonoscopy test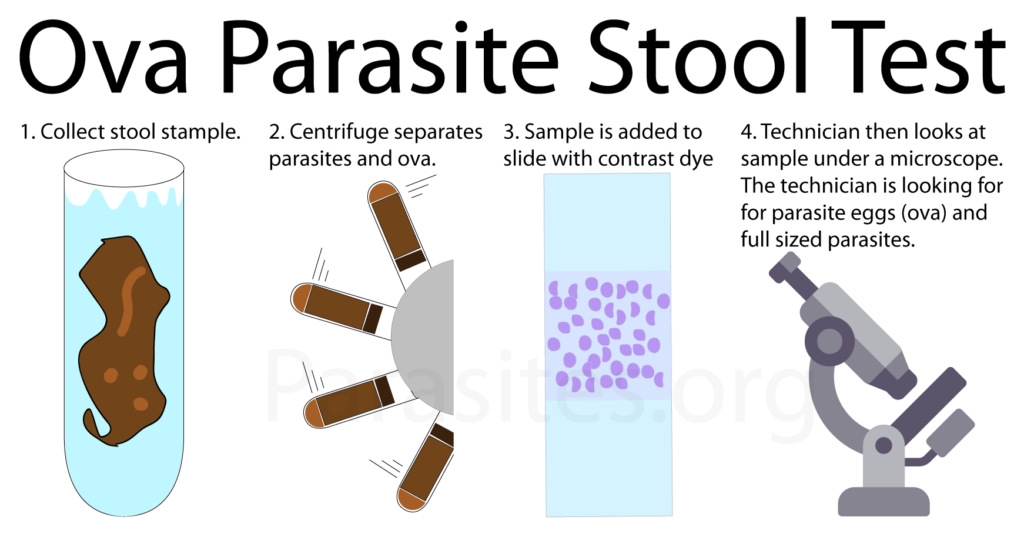 The ova parasite test is the gold standard for parasite testing. It can find dozens of parasites, compared to just a few parasites in a PCR test.
This test looks for parasite eggs, which are strong evidence of an adult infection that…